Electric fan-shaped blind valve structure features:
Electric fan-shaped blind valve mainly by the left valve body, the right valve body, screw pair, flap, ring , lever, electric push rod and other components, and by the end sit, support column to form a rigid structure. The valve is provided with a clamping, releasing, push rod and flap push rod, clamping, loosen push rod by screw pair and lead screw drive left and right valve body to complete the release, clamping action, flap push Rod-driven flap to complete the switch action. Rubber ring embedded in the valve plate, with high temperature sealing performance, easy replacement, long service life and so on.
Electric fan-shaped blind valve can be a single long-distance control, remote control more than one network, under normal circumstances can also use the valve itself device manual operation.
Electric fan-shaped blind valve product outline structure: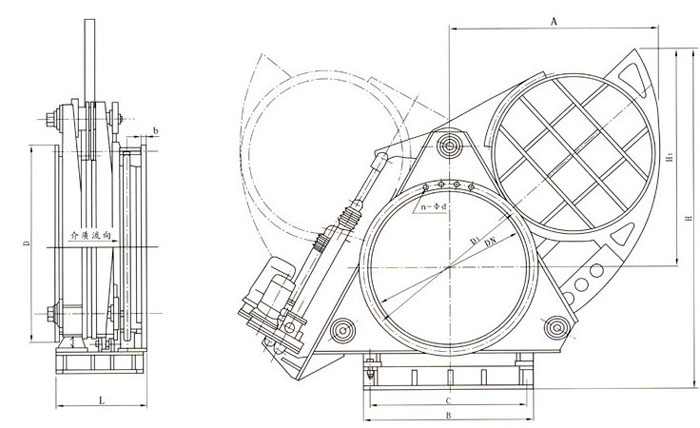 Electric fan-shaped blind valve main shape connection size
DN

L

D

D1

H

A

b

n- ¢ d

Quality kg

PN0.05

PN0.15

PN0.25

300

500

440

395

720

480

twenty two

12-23

205

225

250

350

600

490

445

810

520

twenty two

12-23

235

255

280

400

600

540

495

920

580

twenty two

16-23

286

305

335

450

600

595

550

995

650

twenty four

16-23

340

370

400

500

600

645

600

1102

800

twenty four

16-23

420

460

500

600

600

755

705

1500

1000

twenty four

20-26

530

680

630

700

600

860

810

1600

1050

26

24-26

605

665

730

800

800

975

920

1850

1129

26

24-30

1500

1650

1750

900

800

1075

1020

1980

1242

28

24-30

1800

1950

2100

1000

800

1175

1120

2200

1375

30

28-30

2100

2300

2500

1100

800

1275

1220

2425

1510

30

28-30

2300

2500

2700

1200

800

1375

1320

2620

1625

30

32-30

2600

2800

3050

1300

800

1475

1420

2760

1749

30

32-30

3000

3300

3600

1400

850

1575

1520

2960

1856

32

36-30

4170

4550

4950

1500

850

1690

1630

3105

1976

32

36-30

4900

5300

5800

1600

850

1790

1730

3300

2093

32

40-30

5350

5850

6350

1800

1100

1990

1930

3610

2335

32

44-30

6750

7600

8300

2000

1100

2190

2130

3960

2570

32

48-30

8750

9500

10500
【Print】 【Close】
The products under this classification are characterized by small volume, beautiful appearance, no noise, no pollution, stable performance, small turning radius, strong traction, good climbing performance, simple operation, convenient maintenance and high work efficiency. It is especially suitable for transportation in narrow channels and is an ideal green short-distance transportation vehicle;

Hand-Held Battery Tractor,Battery Tractor Ki,12V Battery Tractor,Farm Tractor Battery Application Chart
Jiangsu Anli Electric Vehicle Co. Ltd , https://www.anlitractor.com