User profile

Name: Du Yuntao
Age: 53
XCMG excavator quantity: 5 sets
Initial use time: 2010
Editor's note:
A Harmony No. whizzed past, going north to the "Baishan Heishui" and south to the "Tropical Rainforest", to the east to the sea, west to the Gobi, and the Chinese high-speed rail to the mountains, to the water and bridging bridges. The tentacles extended to all directions on the Chinese territory. , Delineate the grand blueprint of the railway network in the new era. However, great projects are also inseparable from the ordinary people who stick to their duties on the job day and night. Du Yuntao is such an "ordinary" railroader. He and his XCMG excavators' "super team" have already engaged in The earthwork works on the high-speed rail line have been working for several years.
Turning off the scroll of time, ten years ago, Du Yuntao was once the owner of a wood processing factory. He was the boss, but there were only three workers in the factory. His drying, planing, and drying were all hands-on. At that time, many of Du Yuntao's relatives were engaged in the construction of the railway. In 2008, Du Yuntao decided to close the wood processing factory and borrow money from relatives and friends to purchase two excavators. During this period, Du Yuntao frequently participated in the earthwork works on the railway line and accumulated the first pot of gold in his life. However, these two well-known excavators often strike due to quality problems. This is undoubtedly for the time-constrained railway construction. It is fatal.
In 2010, Du Yuntao decided to update his excavator equipment. With previous experience, he was particularly cautious in the choice of equipment. After many comparisons, the power, quality, and reliability of XCMG excavators left a deep impression on him, so Du Yuntao did not hesitate to purchase a XCMG XE215. The machine began its own "road to wealth creation."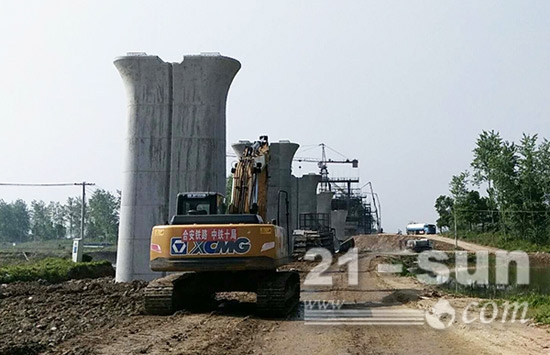 Du Yuntao's Xugong excavator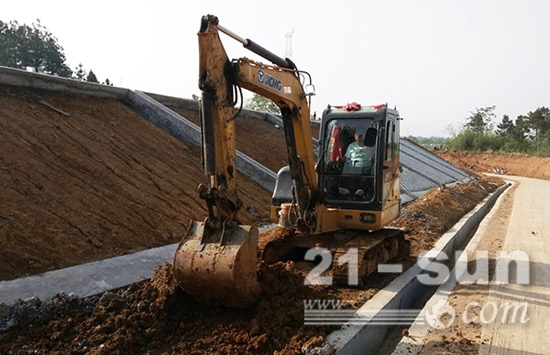 Du Yuntao's Xugong excavator

Selecting Xugong to Open the Way to Creating a Fortune

With the new excavator, Du Yuntao's main contracting project has also changed from a simple earthwork project to a more difficult railway line construction. The so-called "underpass" is also called "underpass overpass." It seems simple to build a "pass-through overpass" on the railway, but it is far more difficult than the general earthworks, because it can only dig 1.5-2 meters at a time, requiring the excavator to ensure high accuracy in its operation. Secondly, the duration of the next interchange project is often very short, ranging from 3 days to as much as 10 days. Such a tight schedule is a great test for the constructor. The XCMG XE215 excavator in the hands of Du Yuntao not only has fast rotation speed and high efficiency, but also excels in the same precise performance. It shows excellent performance in difficult, dangerous, and tight schedules.
In the second half of 2015, Du Yuntao, who was participating in the construction of Zhanghu Railway, once again purchased a XCMG XE215 excavator. In just six months, this excavator brought him nearly 200,000 yuan in return. He optimistically predicted that this XCMG XE215 excavator can return to this in less than two years.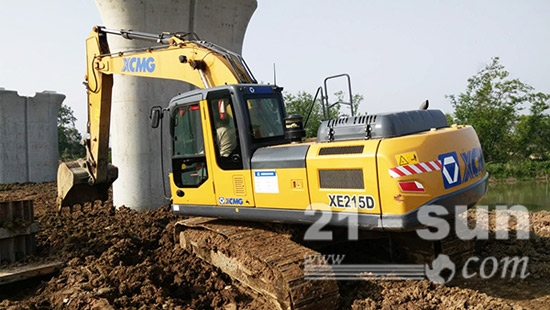 Du Yuntao's Xugong excavator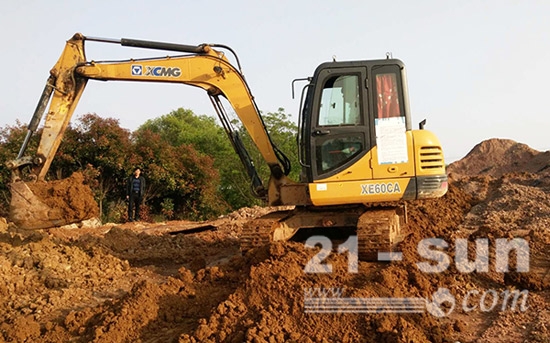 Du Yuntao's Xugong excavator

XCMG Service in the Snow

Zhanghu Railway starts from Zhangjiakou City, Hebei Province, and passes through Huai'an, Hebei Province. It passes through Dajianshan and the Great Wall to enter Inner Mongolia Autonomous Region. In winter, the construction area of ​​this railway is very cold, which once again poses a serious challenge to XCMG excavators. In November 2016, Du Yuntao's excavator was suddenly shut down during construction. He immediately dialed Xugong's after-sales phone to request assistance. Seeing the sky getting dark, the temperature has already reached minus ten degrees. Du Yuntao feels that the service engineer will definitely not come this winter. When he packs things up and prepares for tomorrow, he hears the sound of cars in the distance. When Xugong's service engineers got off to the front of him, Du Yuntao's heart suddenly warmed.
After some investigation, the service engineer quickly found the crux of the problem. It turned out that the No. 0 diesel used by the machine was solidified due to the low temperature, causing the machine to shut down due to insufficient oil supply. The service engineer cleaned the tubing and added negative 10. No. Diesel, the machine has regained its vitality.
"They not only quickly solved my problems, but also explained to me how to deal with such problems when troubleshooting. Finally, they also gave the machine a comprehensive inspection and confirmed that there were no problems before driving back." Du Yuntao said with emotion. "This is just one of the small things. There are many, many examples like this. When I first purchased XCMG excavator, it was the right choice."
Xuyan High Speed ​​Rail, Zhuanghu High Speed ​​Rail, and He'an Nine High Speed ​​Rail... Now that Du Yuntao has contracted more and more projects, he already owns 5 XCMG excavators and he is planning to purchase a new XCMG XE60D to expand his lineup of excavators. In the future, the "Old Railway" will continue to use its XCMG excavators to achieve further goals. (This article is from Xugong)
Related information: XCMG Excavator Users
Hangzhou Holdwell Group,The professional Chassis Parts For Ferguson manufacturer located in China,Supply Chassis Parts For Ferguson,help you keeping running costs to the minimum.Holdwell replacement parts for Ferguson Performance Suspension,Ferguson Car Suspension Parts,Ferguson Front Suspension Parts and more parts like brake cylinders, ball joints, tie rods,disc brake,axle supply you in very competitve price and reliable quality and wonderful purchase experience.Holdwell is your good choice.
Chassis Parts For Ferguson
Chassis Parts For Ferguson,Ferguson Transmission Parts,Ferguson Tractor Undercarriage Parts,Ferguson Front Axle Parts
Hangzhou Holdwell Mechanical&Electrical Co.,LTD , https://www.holdwellparts.com